i have always been a fan of the Mizuno Wave Inspire series (ever since i shifted from Adidas Supernova Sequence 1) and I do believe that this shoe model is already the best training (or long distance) shoe for me.
Me and my Inspire 4 have been to many places, and it has given me the a lot of good memories :)
One of the first LSDs I've had with my Inspire 4.
This was when running more than 10K was"long" already. more pix here
My favorite running pic ever.
Taken by Doc Eric, my first ever pacer for my first 21K
(Botak May 10, 2009)
My Inspire 4 has also gave me my best PRs so far (not that I've been running as much as I used to). So far, my Inspire 4 has had the most mileage of all my shoe collections (with numerous half marathons under its sole?). Just like anything you'd love, you would use it until the very last. For some, even to the point that there is not much cushioning, they would still use their beloved running shoes for running. It came to a point where I felt that running with my Inspire 4 was not doing me any good anymore and that I had to retire it. I tried using other models (Elixir 4) and even other brands (Asics Kayano 13) but I guess its still different when you know you got the best thing going on for you. The next Inspire series Inspire 5 and 6, were not that far apart when it was released in the Philippines, so I decided to take the newer model shempre. At first I was kinda hesitant to get the Inspire 6, primarily because, I got so attached with how suave the Inspire 4 was, that I don't want to change. Eventually, I decided to get my next Inspire, (after trying and using Asics Kayano 13 for my first full marathon).
Inspire 6
True to its Inspire look and feel, it did not remove the signature look of the Inspire. Basically same look with the toe box, and with the heel also. A few technological tweaks here and there to make the shoes more durable than what it already is. As expected, everything I expected from a Mizuno Wave Inspire based from my initial experience with it was the same. No need to break in the shoes as compared to other brands. The transition was smoother this time though. The cushioning was also superb while providing ample support for mild overpronators.
hindi lang sha pang takbo, pwede ring pang sayaw?
Initially I intended to use my Inspire 6 for my 2nd Full Marathon last January, but due to the usual wear and tear (since it became my new favorite, i almost use it every training day, to the point that when Condura came, I was a bit hesitant to use it already. It's not because baka there won't be enough cushioning left for the whole 42K stretch, but because I don't want to overuse it baka panget ung next color/design/look ng susunod na Inspire series kaya I had to settle with my K-onas.
Mizuno boy wearing K-ona for FM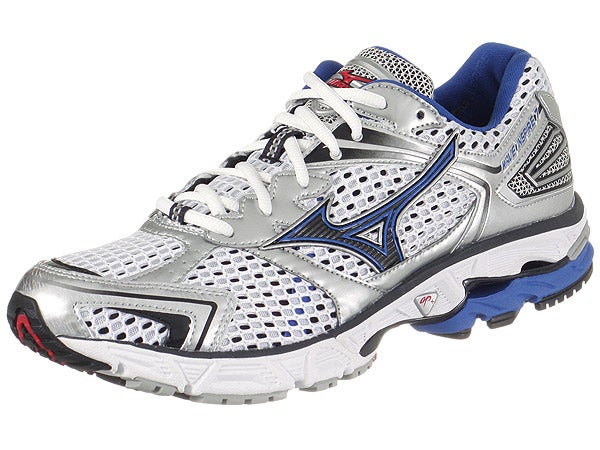 Inspire 7
When Inspire 7 came out in 2011, the first colorway it had was bronze with yellow. definitely not my color. This being the scenario, i had to extend my Inspire 6's lifespan to make sure I still get to run. OK lang naman, walang kaso yun, pero i saw major changes with the new Inspire, as compared to its older versions.
First thing I noticed was the toebox. iba na yung itsura nya.sobrang layo from the previous model. another change physically was the heel. wala na yung signature "triangle" heel support design sa likod.All the while I thought that was the signature for the Inspire. pero mukhang hindi ata. :( Thirdly, ang bulky nya tignan. As compared to previous Inspire models, this one looked and felt chunkier. It also lost that 'speedster' look that it used to have. Yes, they adjusted the opening to make it more snug-fit, but it affected the angas factor eh. Hindi na sha "mukhang Inspire". One more comment I've been hearing from some was that due to the "upgrading" of the sole from AP to AP+, the support was evident. Some were even uneasy with the support as it might hinder their stride. (Well, this one I still have to test and will further provide analysis/review/comment on the said matter).
I was wondering, what the Japanese designer dudes did to the Inspire 7. Why did they have to change a lot from the previously perfected design & structure to come up with the Inspire on steroids version. (also, they released here in the Philippines the blue colorway of the Inspire 7 so medyo matagal talaga akong nag intay for this one. sabihin mo nang choosy, oo choosy nga, ayaw ko gumamit ng sapatos na 1) hindi match sa foot type ko at 2) hindi ako confident sa kulay na meron sila. dapat shempre aesthetically sound yung itsura ng sapatos diba? :) hehehehe)
I guess the Japanese designers in Osaka, Japan realized that they made a huge mistake in altering much the initially perfect design of the Wave Inspire series that they decided to revert back to the original template of the Inspire. With the updated 2012 Inspire 8, they brought back the essentials (both design and function) and added a few more innovations which would help the runner.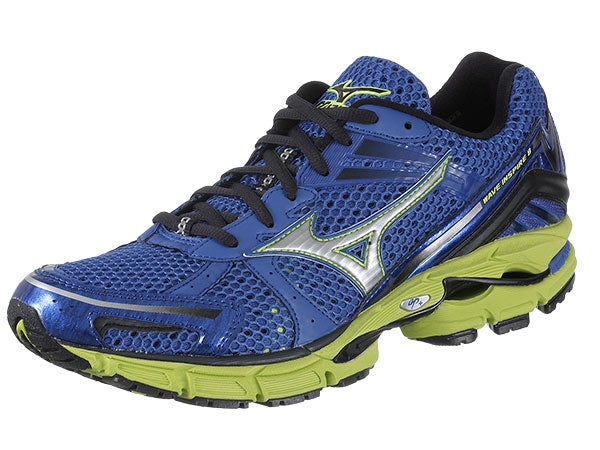 Inspire 8 Osaka Marathon Special Edition
Just by looking at the special commemorative edition of the Wave Inspire 8 Osaka that 1) it now looks like it is an Inspire. andun ulit ung basic elements ng toe box design, and yung triangle thingy at the back.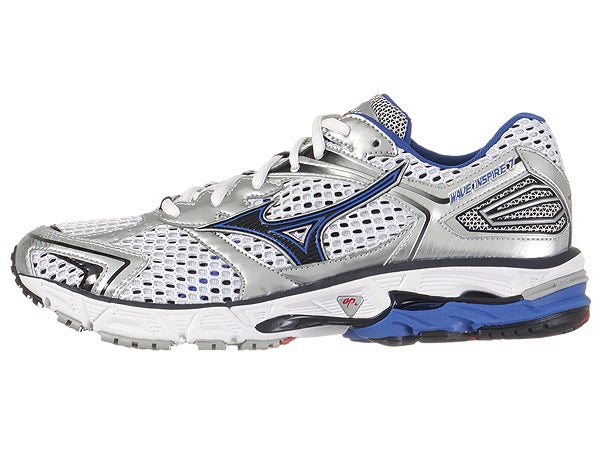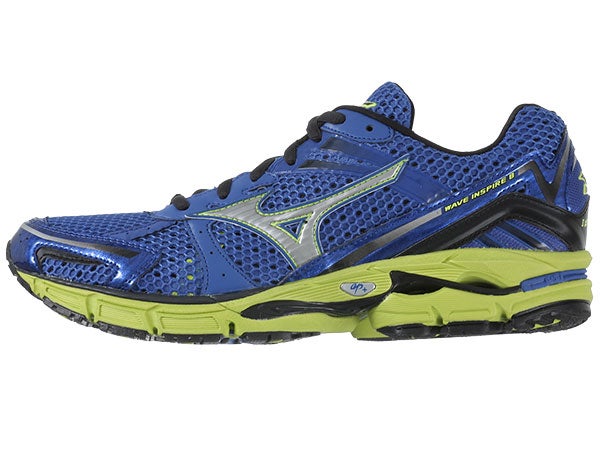 another thing you can notice is the toebox literal. the Inspire 8's toebox height from the ground is not as high (and not sa thick) vs. Inspire 7. The Inspire 8 also became leaner (or should I say back to its previous shape?) again vs the 7. You can also see here that the heel cup has been "rounder", or mas mag lock sa heel mismo as compared to the 7's heel cup shape.
looking at the bottom of things, you'd see major differences.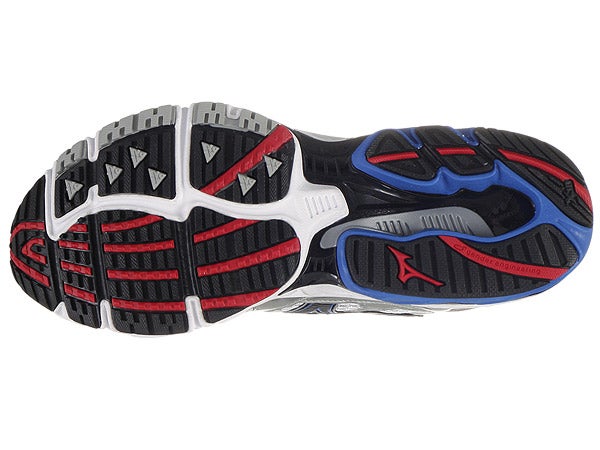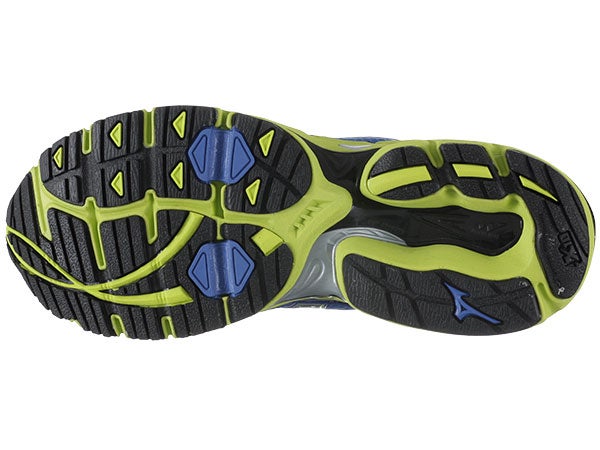 at the sole, you'd see the major difference of the 7 vs 8 is that the 8 has a wider forefoot/midfoot area. I don't know if the adjustment with the flex grooves angle placements has anything to do with it, but as compared with the Inspire 8's 4 flex grooves to the Inspire 7's only 3, you can say that the Inspire 8 is designed to be more flexible. Also an additional feature of the Inspire 8 is the flex controllers (that's the 2 blue plastic thingy found under the midfoot). What this thing does is it prevents the foot from over flexing (if ever there is such a term) to prevent excessive foot flexion with then in return gives the runner a more efficient foot strike. Another change they did with the 8 is the cuts at the heel. you'd notice the heel has the same number of "cuts" pero the division is different. with the 8, it is placed at a more direct impact position upon heel strike as compare to the 7th which was placed nearer the outside of the foot.
For now, that's the only analysis we can have comparing these models of Inspire. Hopefully before the year ends, sana we can get a glimpse of the actual Inspire 8 Osaka Edition to test out these shoes, and to compare the differences they had with the previous models.